Sarah and Simon had a stunning sunny Cornish elopement at The Cow Shed. I have so much love for this venue, the staff, the team of suppliers that are often seen here and the wonderful nature of the couples that The Cow Shed always seem to attract.
This day was perfect! Beautiful weather, a lovely couple with a handful of family, Sarah's funny faces, Eyebrow brushing (with an eyebrow toothbrush) a trip to Portwrinkle in the Webb family Mini Cooper (Sally), catching lots of seaweed and branches in the wedding dress and a lovely afternoon tea supplied by the truly wonderful Debbie at Kcal Foods Cornwall.
Thanks so much to Sarah and Simon for giving me the honour of being your photographer and driver for the day! I had an absolute blast!!!
Keep scrolling for some of my favourite moments from the day followed by a little chat with Sarah and Simon as they reflect on this beautiful day…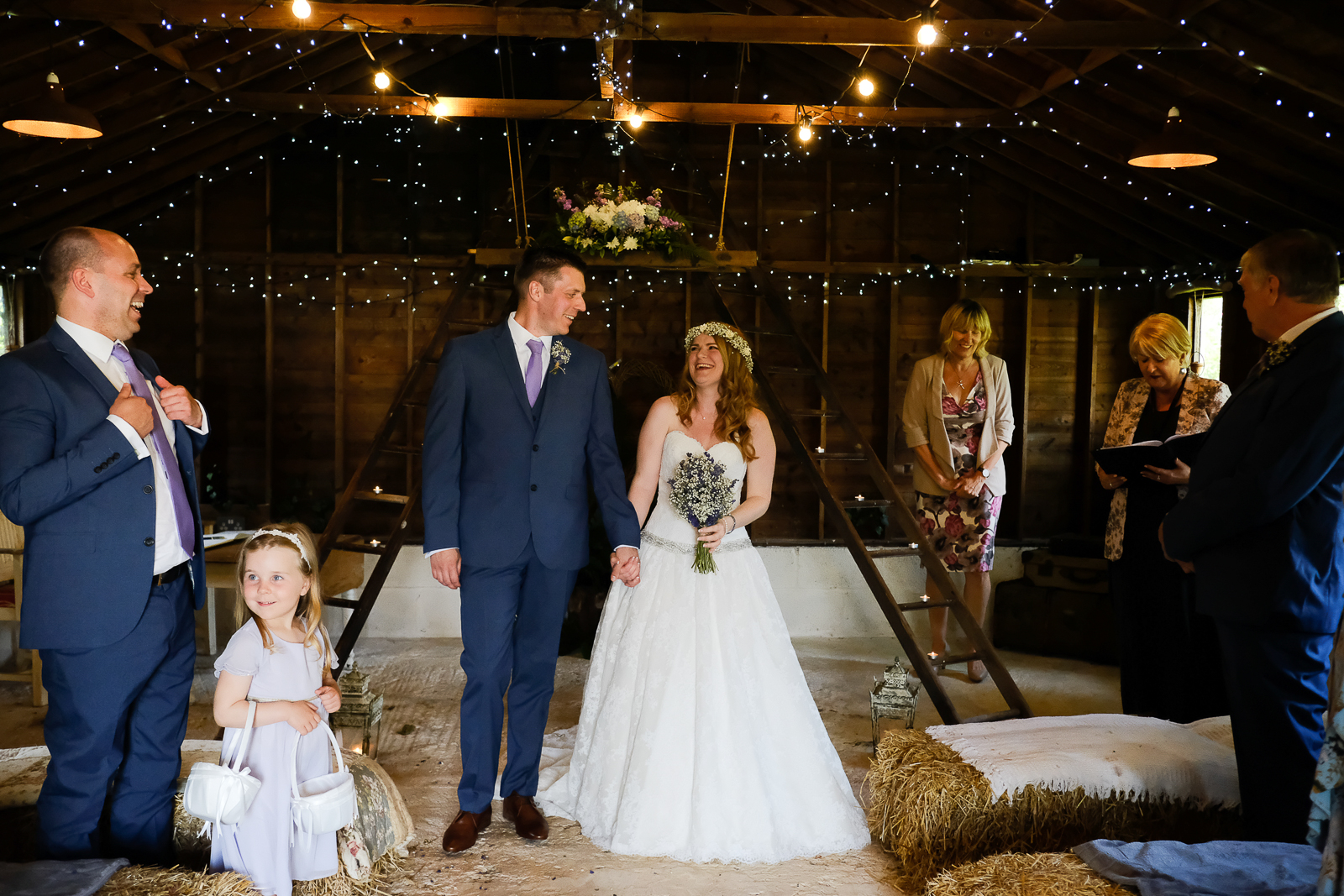 Hiya Sarah and Simon, What's the story of how you met and got to this awesome stage in your lives:?
We met online, he could have been a serial killer, but all turned out ok! We went walking in a country park for our first date.
What was your favourite part of your elopement?
Simon - watching me walk down the aisle in my dress.
Sarah - seeing simons face as I walked down the aisle to him.
Your favourite story/s from the day - The one/s that you will tell when you are really really old?
Sarah - squeezing my dress into your Mini Cooper and walking down to the beach when it was rather warm and I was fighting with the ever growing collection of seaweed in my train.
What made you The Cow Shed for your elopement?
We loved the rustic and relaxed feel of the venue and that all parts of the day could take place in the same venue.
What made you choose the details and theme/styling for your wedding?
We chose wildflowers, purple and blues as these are my favourite colours and I like rustic and natural things
What advice do you have for couples planning their wedding?
Do it your way and not how everyone else wants you to do it!
I love food, music and entertainment They are the some of the best things about weddings! - What food did you have, was it yummy and what did you have to entertain yourselves and your guests?
We had a relaxed afternoon tea with close family. I walked down the aisle to a thousand years.
A Shout Out to your wedding suppliers:
Venue - The Cow Shed - Freathy Farmhouse, Cornwall
Food - Kcalfoods Cornwall Debbie Thorpe
Flowers - https://www.artisandriedflowers.co.uk/
What were you looking for in your photographer? and why on earth did you choose Jamie Webb ato photograph your day?
We wanted a relaxed photographer that wasn't too formal and wanted a day that didn't involve too much posing. We loved the natural style of your photographs. It was lovely working with you on the day. You made us really relaxed and fitted right in. You couldn't do enough to help us on the day.
Aww thank you so much for the lovely words! It was such an honour to be part of your day especially with it's intimate nature! BIG MASSIVE loves to you both and congrats again!
If you are like me, and you can't get enough of The Cow Shed! Then check out…
Sophie and David's Fun Festival style wedding here (This wedding was recently featured on Boho Weddings too - YAY!)
Lisa and Paul's Rustic Beach elopement here
and Jennie and Greg's Intimate Wedding here
Fancy having natural, fun and vibrant wedding photos like Sarah and Simon? and can tolerate a photographer who gets funny looks when he orders tea at the bar? Then I'm your guy!
Click below to send me a message about your wedding and we can have a nice brew!
More weddingy goodness ...